The Digital TV Converter Box Coupon Program, which provides $40 off coupons for the purchase of a digital television converter box, is still accepting new coupon applications and appeals from those who have had coupons expire, or were otherwise refused coupons. There's still time to take advantage of the coupon program, but you must apply for a coupon or appeal by Friday July 31st, 2009.
If you still need a DTV Converter Box coupon, you must apply immediately at DTV2009.Gov, by phone at 1-888-388-2009 (1-888-DTV-2009), by mail or by fax. Mailed applications must be post-marked no later than midnight on July 31, 2009 in order to receive up to two $40 off coupons.
If you have one or more converter box coupons that you did not redeem and they expired, then we have some good news for you. The NTIA's TV Converter Box Coupon Program is now accepting applications from consumers whose coupons expired without being redeemed. You must request your replacement coupons, as they will not be re-issuing coupons without a request. To reapply for coupons, please visit www.DTV2009.gov, and click on "apply for a coupon".
Also, the coupon program has processed all of the requests from their waiting list, and if you were notified by the NTIA that you were placed on the list, you should be receiving your coupons shortly.
The TV Converter Box Coupon Program is now open for new requests, and requests will be handled on a first-come, first-served basis, while supplies last. If demand exceeds supply, you may be placed on a waiting list. Over-the-air only (no cable or satellite) households will be placed ahead of all other requests to make sure that as many US households as possible have a working television once the big switch to digital takes place on June 12th, 2009.
The TV Converter Box Coupon program is back in business, and the NTIA has updated the program to address consumers who have been on their waiting list. Analog broadcasts are now scheduled to be shut down by June 12, 2009 as a result of the DTV Delay Act, and funding from the recently passed stimulus bill has allowed the coupon program to continue for a limited time.
It is very important that you act now to prepare for the switch to digital television, since the program will only be accepting applications until July 31st, 2009 or until they run out of funds for the coupon program (again). The NTIA is also planning to add some improvements to the program within the next few weeks, including accepting new applications from consumers with expired coupons.
Effective now, all consumers that were placed on the waiting list will receive their coupons. The NTIA has already begun processing the approved coupon applications that were on their waiting list beginning in January of this year. If you were notified that you were placed on the waiting list, you should be receiving your coupon(s) shortly. To check the status of your request, you can go to the NTIA website, and use your reference number that was given to you when you applied. The TV Converter Box Coupon Program will also be mailing coupons via first-class mail, so your coupons should arrive more quickly than those who received their coupons before the program was suspended.
After the NTIA has finished sending coupons to those on the waiting list, they will start accepting new applications on a first-come, first-served basis. New coupons will be sent out as long as supplies last, and if demand is too high, they are reserving the right to place applications on a waiting list. If this does happen, they may restrict the coupons to consumers who are "over-the-air-only" television viewers (non cable or satellite customers). This is to make sure that as many houses in the US have at least one television that will work after the digital switch is completed on June 12th.
Click here to go to the U.S. government DTV tuner coupon page , click on item 3, and request your coupon.
While the NTIA will be addressing expired coupons very soon, they are not yet accepting those that reapply for coupons due to expiration, loss or theft. Do NOT reapply for a coupon that has expired or was lost or stolen, as the application will be denied. The NTIA is addressing this issue, and they will be informing consumers through their website when the coupon program can accept requests to replace coupons which are lost, stolen or expired.
Jake at Gov Gab has a great post about the DTV transition and a nice table to help you figure what DTV solution you need for the Big Switch. His table reminds us that if we watch TV on an analog television, we need to get a DTV converter box.
What is an Analog TV?
An analog TV is the standard TV that has been used in most homes for decades. Unless you have purchased a high definition television (HDTV) with a digital tuner, you have an analog television.
Where do I get a $40 off coupon for a DTV Converter box?
You can request a coupon at the TV Converter Box Coupon Program page. This link will take you to the U.S. Government's DTV Converter Box Coupon Program. If you are not comfortable submitting your personal information online, you can call the Coupon Program 24-hour hotline at 1-888-DTV-2009 (1-888-388-2009).
A question about a Digital antenna to receive DTV was asked on Gov Gab site too.
Do I need a special antenna to receive DTV?
No, a standard television indoor, or outdoor, antenna works just fine for receiving over-the-air digital broadcasts. If you already have an antenna, then you just need a converter box and you are ready to watch digital TV. If you don't have an antenna, you can shop online through our antenna page, or at a local retailer. You do not have to pay extra for a "HDTV antenna." Any good television antenna will work.
Basic Instructions on Setting Up Your Digital-to-Analog Converter Box
This Fact Sheet from the FCC describes the installation of a digital-to-analog converter box with your current antenna and analog TV. This guide will help you prepare so that when you purchase a converter box you will know what to expect and whether you may need help setting it up.



Supplies: You will need your analog TV, the antenna you have been using (indoor or outdoor), and the coaxial wire that currently connects your antenna to your TV (as pictured on the right). Your new converter box will come with a coaxial wire and a remote control. Before you begin the installation of the converter box, you should unplug your TV.
Step 1 - Unplug the existing coaxial antenna wire from your TV "Antenna In (RF)" port.
Step 2 - Plug the existing coaxial wire into the "Antenna In (RF)" port on your Converter Box.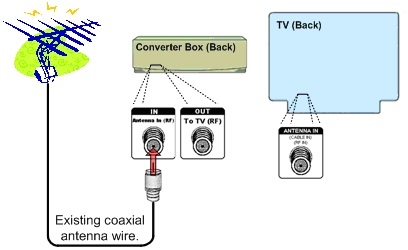 Step 3 - Using the coaxial wire that comes with your Converter Box, plug one end into the "Out To TV (RF)" port on the Converter Box. Plug the other end into the "Antenna In (RF)" port on your TV.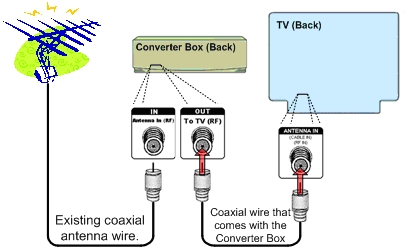 Step 4 - Plug the power cords on your Converter Box and TV into a power outlet, and turn on your TV and Converter Box. Using the instructions that come with your Converter Box, tune your TV to channel 3 or 4. Using the remote that comes with your Converter Box, follow the on-screen set-up guide to scan for available DTV channels, and begin enjoying the benefits of Digital Television!

If your Converter Box includes an "analog pass-through" feature, this set up will also allow you to receive any stations that still broadcast in analog in your area. Follow the instructions that come with your Converter Box for how to tune analog channels.
For instructions on how to connect your converter box if it does not include an analog pass-through feature or for instructions on connecting your converter box to other components such as a VCR, go to www.dtv.gov or contact the FCC by e-mailing dtvinfo@fcc.gov; or calling 1-888-CALL-FCC (1-888-225-5322) voice or 1-888-TELL-FCC (1-888-835-5322) TTY.