January 15, 2009 by admin
Filed under
Comments Off on Zenith DTV
Zenith DTV Digital to Analog Converter boxes for sale. These Zenith digital-to-analog converters allow you to watch your local, over-the-air (OTA) high definition broadcast television channels. You don't have to replace your existing TV when you use a Zenith digital to analog converter TV tuner. Clicking the links below open a new window in your browser on eBay with a full description of the Zenith DTV converter you can buy right now.
| | |
| --- | --- |
| Shop by country | Sort the items |
Compare prices on Zenith DTV converters at Amazon.com:
August 13, 2008 by admin
Filed under
Comments Off on How to Setup Up your DTV Converter
How to Setup Up Your Digital-to-Analog Converter Box
This Fact Sheet from the FCC describes the connection of a digital-to-analog converter box to your current antenna and analog TV. This guide will help you prepare so that when you purchase a converter box you will know what to expect and whether you may need help setting it up.


Supplies: You will need your analog TV, the antenna you have been using (indoor or outdoor), and the coaxial wire that currently connects your antenna to your TV (as pictured on the right). Your new converter box will come with a coaxial wire and a remote control. Before you begin the installation of the converter box, you should unplug your TV.
Step 1 - Unplug the existing coaxial antenna wire from your TV "Antenna In (RF)" port.
Step 2 - Plug the existing coaxial wire into the "Antenna In (RF)" port on your Converter Box.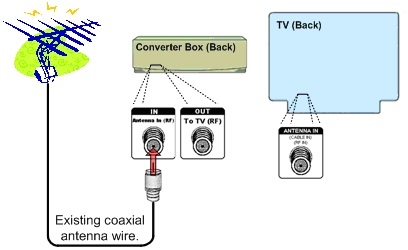 Step 3 - Using the coaxial wire that comes with your Converter Box, plug one end into the "Out To TV (RF)" port on the Converter Box. Plug the other end into the "Antenna In (RF)" port on your TV.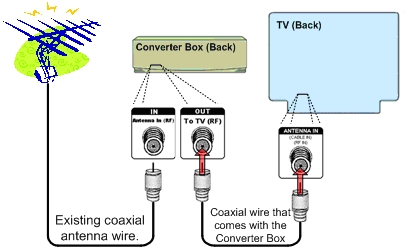 Step 4 - Plug the power cords on your Converter Box and TV into a power outlet, and turn on your TV and Converter Box. Using the instructions that come with your Converter Box, tune your TV to channel 3 or 4. Using the remote that comes with your Converter Box, follow the on-screen set-up guide to scan for available DTV channels, and begin enjoying the benefits of Digital Television!

If your Converter Box includes an "analog pass-through" feature, this set up will also allow you to receive any stations that still broadcast in analog in your area. Follow the instructions that come with your Converter Box for how to tune analog channels.
For instructions on how to connect your converter box if it does not include an analog pass-through feature or for instructions on connecting your converter box to other components such as a VCR, go to www.dtv.gov or contact the FCC by e-mailing dtvinfo@fcc.gov; or calling 1-888-CALL-FCC (1-888-225-5322) voice or 1-888-TELL-FCC (1-888-835-5322) TTY.