The Digital TV Converter Box Coupon Program, which provides $40 off coupons for the purchase of a digital television converter box, is still accepting new coupon applications and appeals from those who have had coupons expire, or were otherwise refused coupons. There's still time to take advantage of the coupon program, but you must apply for a coupon or appeal by Friday July 31st, 2009.
If you still need a DTV Converter Box coupon, you must apply immediately at DTV2009.Gov, by phone at 1-888-388-2009 (1-888-DTV-2009), by mail or by fax. Mailed applications must be post-marked no later than midnight on July 31, 2009 in order to receive up to two $40 off coupons.
If you have one or more converter box coupons that you did not redeem and they expired, then we have some good news for you. The NTIA's TV Converter Box Coupon Program is now accepting applications from consumers whose coupons expired without being redeemed. You must request your replacement coupons, as they will not be re-issuing coupons without a request. To reapply for coupons, please visit www.DTV2009.gov, and click on "apply for a coupon".
Also, the coupon program has processed all of the requests from their waiting list, and if you were notified by the NTIA that you were placed on the list, you should be receiving your coupons shortly.
The TV Converter Box Coupon Program is now open for new requests, and requests will be handled on a first-come, first-served basis, while supplies last. If demand exceeds supply, you may be placed on a waiting list. Over-the-air only (no cable or satellite) households will be placed ahead of all other requests to make sure that as many US households as possible have a working television once the big switch to digital takes place on June 12th, 2009.
Basic Instructions on Setting Up Your Digital-to-Analog Converter Box
This Fact Sheet from the FCC describes the installation of a digital-to-analog converter box with your current antenna and analog TV. This guide will help you prepare so that when you purchase a converter box you will know what to expect and whether you may need help setting it up.



Supplies: You will need your analog TV, the antenna you have been using (indoor or outdoor), and the coaxial wire that currently connects your antenna to your TV (as pictured on the right). Your new converter box will come with a coaxial wire and a remote control. Before you begin the installation of the converter box, you should unplug your TV.
Step 1 - Unplug the existing coaxial antenna wire from your TV "Antenna In (RF)" port.
Step 2 - Plug the existing coaxial wire into the "Antenna In (RF)" port on your Converter Box.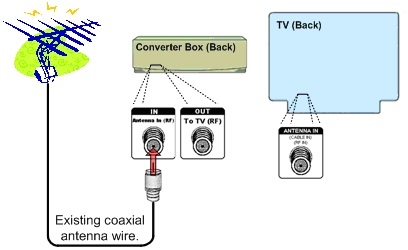 Step 3 - Using the coaxial wire that comes with your Converter Box, plug one end into the "Out To TV (RF)" port on the Converter Box. Plug the other end into the "Antenna In (RF)" port on your TV.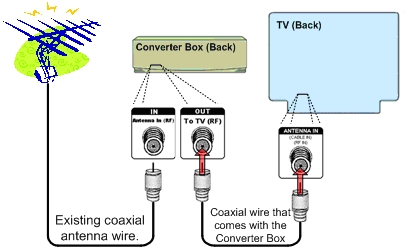 Step 4 - Plug the power cords on your Converter Box and TV into a power outlet, and turn on your TV and Converter Box. Using the instructions that come with your Converter Box, tune your TV to channel 3 or 4. Using the remote that comes with your Converter Box, follow the on-screen set-up guide to scan for available DTV channels, and begin enjoying the benefits of Digital Television!

If your Converter Box includes an "analog pass-through" feature, this set up will also allow you to receive any stations that still broadcast in analog in your area. Follow the instructions that come with your Converter Box for how to tune analog channels.
For instructions on how to connect your converter box if it does not include an analog pass-through feature or for instructions on connecting your converter box to other components such as a VCR, go to www.dtv.gov or contact the FCC by e-mailing dtvinfo@fcc.gov; or calling 1-888-CALL-FCC (1-888-225-5322) voice or 1-888-TELL-FCC (1-888-835-5322) TTY.
The U.S. House Commerce Committee and it's telecommunications and Internet panel is asking the National Telecommunications and Information Administration (NTIA) to explain why they did not plan and budget for replacing consumer's expired DTV converter box coupons. The committee lead by Democratic Reps. John D. Dingell (Mich.), chairman of the House Commerce Committee, and Edward J. Markey, Chairman of the panel, have requested that the NTIA project how much it will cost to reissue unused coupons to those who request them. The House and the Senate have been concerned about the planning and progress of the nationwide switch to DTV broadcasting on February 17, 2009. The coupon program is operated by the NTIA, who contracted the administrative activities contracted to IBM.
As noted in an article by Kim Hart in the Washington Post :
About 60 percent of the coupons were not redeemed within 90 days, meaning those funds are to be used for additional coupons. But according to the letter sent to the NTIA, the current contract with IBM does not include administrative funds to process and mail additional coupons.
Many consumers have had difficulty locating coupon eligible converter boxes in local stores as retailers have struggled to keep up with demand. The NTIA has been investigating whether they can issue replacement coupons to those who were unable to use the coupons prior to their expiration, or if Congress will need to change the law that established the terms of the coupon program.
Consumers should watch out for scams when they are switching over to DTV, as the article below points out.
Chicago, Il –(ENEWSPF)– BBB is alerting consumers to beware of a misleading advertising campaign by an Ohio-based company called Universal TechTronics. Ads are running across the U.S. promising free television channels, services and digital TV converter boxes, but are really a bait and switch tactic that prey on consumers' lack of knowledge about digital TV conversion requirements.
A BBB investigation found that Universal TechTronics is peddling "five-year warranties" for $59 that must be purchased with their "free" digital TV converter boxes. With shipping and handling fees rolled in, the total cost per box is nearly $100. BBB believes that these are the same boxes consumers can buy...
Read the full article at eNews Park Forest

Consumer Reports also has an article about DTV scams too.